AIRVIB© Wired Balancing System for Helicopters, Fixed wings and others Aircrafts
AIRVIB© Kit Heli-3
Wired System for enhanced data security
Helicopter / Fixed wings and Drone track & balance
Dynamic balancer 4 channels
Track measurement up to 12 blades
Spectrum analysis 8 channels
Automatic weight sensitivity correction
Data saved on internal memory
Operating down to -30ºC
Strenghen cables and sensors
Chinese User's Interface
Download the product's brochure Here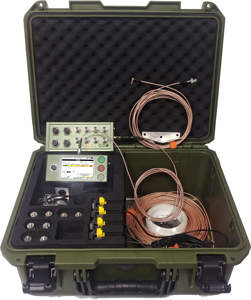 AIRVIB®
The AIRVIB Kit Heli-3 system consists of an Acquisition Unit (to which various sensors are connected to) , and a Display Unit.
With a new Acquisition and Display units especially designed to cope with the most extreme conditions of use , as well as enhanced sensors. The AIRVIB Kit Heli-3 has been designed to prevent data leakage , and is capable of operating down to -30ºC. All the cables have been drasticaly reinforced.
This lightweight system allows the recording, processing and interpretation of all vibratory signals generated in flight to meet all your needs Its quick and punctual installation allows the use of a single system for a full fleet of aircraft, thus optimizing costs.
The track measurement on a rotary wing makes it possible to visualize and adjust the positions of the blades. The universal tuning program offers balancing solutions for all types of flying models.
Key System Benefits and Features
Vibration analysis on Helicopters, Fixed wings and others Aircrafts. Designed to analyze and tune fixed and rotating wing aircraft as well as multi rotor. 
Affordable system delivered complete with all its accessories Supplied in a rugged, compact and lightweight carrying case.
Modern technology with a color screen, choice of measurement units and language, battery charge with USB C port and internal memory for backup.

AIRVIB® ACQUISITION UNIT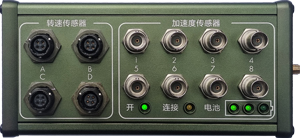 • 4 Tachymeter channels
• 8 Accelerometer channels
• USB-C Connector
• Weight : 500g

AIRVIB® DISPLAY UNIT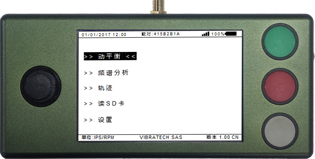 • LCD Color screen
• Chinese/English Interface
• Easy to use interface
• Saving data on internal memory
• Weight : 260g

| | |
| --- | --- |
| Dynamic balancing on 4 channels simultaneously | Calculation and proposal of balancing solutions |
| Track measurement for height and lead/lag | Spectrum analysis configurable on 8 channels |
CHARACTERISTIC

SPECIFICATION

General specifications

Maximum autonomy (at 20°C / 68°F)

AU: ≈ 10 hours / DU: ≈ 14 hours

Full charge time (at 20°C / 68°F)

≈ 8 hours (5V DC @ 1A charge)

Battery type (AU and DU)

2 x Li-Po 3.7V 2000mAh (ref KRL704060)

Languages

English, French, Spanish, Chinese

Operating range (battery in charge)

-30°C to 40°C (-22°F to 104°F) < 85% RH

Operating range (without charge)

-30°C to 50°C (22°F to 122°F) < 85% RH

Operating altitude

< 3000 m (9840 ft)

Degree of protection

IP 30

Balance measurements

Acquisition simultaneous capability

4 vibrations and 4 tachymeters

Balance frequency range

3 to 500 Hz (180 to 30000 RPM)

Amplitude accuracy

+/- 5%

Phase accuracy

+/- 5° or 10 min

Frequency accuracy

+/- 0.1%

Spectrum analysis

Acquisition simultaneous capability

8 vibrations (4 + 4)

Analysis range (maximum frequencies)

100, 500, 1000 and 10000 Hz (6000, 30000, 60000 and 600000 RPM)

Windows type

Flat top

FFT resolution

800 bins (lines)

Amplitude accuracy

+/- 10 %

Frequency accuracy

+/- 1 bin

Accelerometer inputs

Constant current supply

4 mA @ 24V DC (maximum)

Input ranges

0 to 5V peak (maximum 100g with 50mV/g accelerometer)

Tachymeter inputs

Power supply

12V DC @ 150mA (maximum)

Input ranges

1V to 12V peak (nominal)

Frequency ranges

1.5 to 1666 Hz (90 to 100000 RPM)